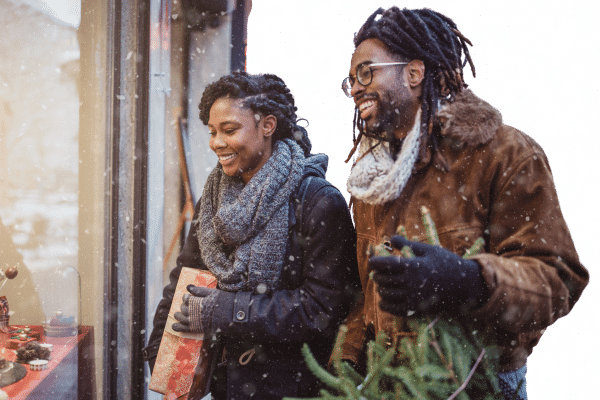 Letterpress Communications and Halifax County Tourism earned national recognition for their holiday advertising campaign at the National Federation of Press Women's (NFPW) 2023 Professional Communications Contest on June 24, 2023. The Halifax campaign's honorable mention followed a first-place award at the Virginia Professional Communicators (VPC) Contest on May 5, 2023. Letterpress was one of 15 VPC members to be honored by NFPW.
"This recognition is not just a testament to our collaborative efforts, but also a nod to the transformative power of strategic storytelling in community building," said Letterpress Founder and Principal Ilsa Loeser. "We are incredibly proud of our partnership with Halifax County and the tangible, positive impact we've been able to generate through our holiday campaign."
One of three themed sweepstakes driven by Letterpress Account Executive Alexandra Veatch, the Holiday Sip 'n Shop campaign amplified Halifax County's digital marketing efforts in order to boost awareness in key metro markets. Letterpress worked closely with Halifax County and its stakeholders to spotlight unique aspects of the area through an itinerary-based drawing, which offered a multi-night trip featuring key tourism partners. This campaign, which was funded in part by a Virginia Tourism grant, increased Halifax's visibility, reached an average of 1.5 million viewers and generated web traffic (49% from Google Ads and 32.5% from Facebook).
"We are thrilled with the returns on our digital advertising," said Halifax County Tourism Director LaTonya Hamilton. "We will utilize more digital advertising next fiscal year given the positive analytic data from this year's campaigns. Our tourism partners are excited and ready to partner with us again. The best part of the collaboration with Letterpress — not only did they implement our data-driven ads strategy, they taught us how to do it for future campaigns. We're now in a better position to reach potential visitors."
"Our mission is to work with organizations that truly impact their communities in a positive way," said Loeser. "Halifax County is such a client. We've cultivated a robust subscriber base and expanded Halifax's visibility in key markets like Washington DC, Northern Virginia and Richmond. The surge in website visitors also translates into increased in-kind dollars for Halifax's future Virginia Tourism grants. It's inspiring to see how strategic marketing not only builds awareness but also generates resources for ongoing growth."
NFPW is a national organization of individuals cultivating careers in communications. This includes professionals in print and digital journalism, freelance writing, emerging media, book publishing, public relations, marketing, graphic design, photography and advertising, along with those in the radio and television industries.
# # #
About Letterpress Communications
Letterpress Communications believes that leveraging community is the only sustainable way to create meaningful, long-term growth. Founded in 2015, the boutique firm brings local, handcrafted marketing strategies and the latest digital storytelling techniques to businesses and nonprofit organizations in Virginia and beyond. From websites and advertising to video production and more, Letterpress specializes in community engagement, rural community revitalization, and career and technical education recruitment. By helping clients share powerful stories, Letterpress invigorates communities to work toward positive change. Headquartered in Farmville, Virginia, with offices in Staunton and Marion, Letterpress offers a wealth of marketing tools, a deep and talented pool of storytellers and a commitment to community-powered marketing. For more information, please visit letterpresscommunications.com or connect with Letterpress on LinkedIn, Facebook and Instagram.
About Halifax County Tourism
Halifax County Tourism, an innovative destination marketing and management organization, serves as the leading authority and resource for visitor information in South Boston and Halifax County, Virginia. With a collaborative and service-oriented approach, its mission is to enhance the economic prosperity of Halifax County by promoting and marketing Halifax County as a destination of choice. This mission is achieved by promoting a diverse array of businesses and attractions through inclusive marketing and public relations efforts and by telling the stories of the surrounding community. Visitor services include experience curation, providing brochures, and operating a welcoming visitor center. As a committed community partner, Halifax County Tourism continually supports all tourism-related enterprises in its community. For more information, please visit gohalifaxva.com or connect with Halifax on Facebook and Instagram.