Community-Powered Virtual Event Production
CASE STUDY: Virginia Children's Book Festival
A capacity-building approach to increase virtual access to a local nonprofit organization's annual festival.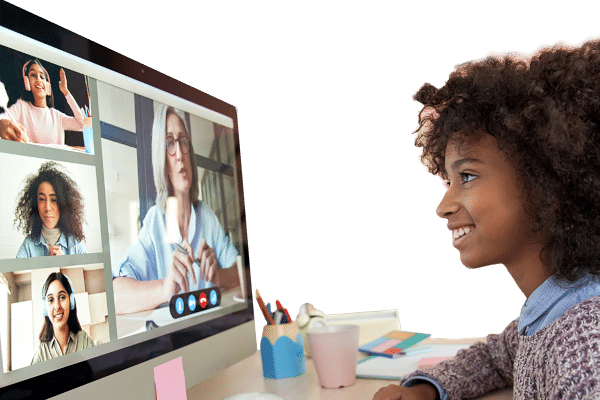 Reimagining access and opportunity for children participating in the Virginia Children's Book Festival (VCBF). In 2020 COVID-19 forced the VCBF to shift from a three-day, in-person event to a month-long virtual event. This shift required a new website with capabilities for live streaming and a blitz promotion to spread the word.
We are focused on impact, dedicated to tracking results and adaptive to customer and market needs so that we can focus on what works.
For VCBF, this resulted in increased registrations, spanning eight states plus Canada and Australia.
%
Increase in registrations
Letterpress drew on the strengths of individual team members and contractors for an all-hands-on-deck approach to this large project with a tight timeline, managing all aspects of the nonprofit virtual event production, marketing and website creation.
We believe storytelling is key in building relationships and success. With the VCBF we worked to:
Highlight the 27 cherished and best-selling authors and illustrators that would be featured at the virtual event.

Appeal to a diverse audience in terms of race, gender and socioeconomic status. 

Feature the visionary programming, including innovative content anchored in civil rights, technology, hip hop and sports.
We are a mission-driven company. We only work with organizations that we believe have a positive impact in their communities.
The VCBF had never before reached this many children to foster literacy. With their new nonprofit virtual event platform, the VCBF brought the best children's authors, illustrators, and creators from around the world into free, real-time, live virtual sessions for kids across the country (and the world).
You can't do it all on your own.
During this all-hands-on-deck operation, we delegated key components to an internal "consultation team," clearly outlining ownership during a rapidly evolving project with tight timelines. We also hosted a "hackathon" day, bringing in additional team members to build out site content to ensure we would meet the client's timeline and needs.
Build structure within chaos.
We set up standing calls with the team every two to three days to check in on all aspects of planning for this virtual event production.
Start early.
For a big event like this one, we'd recommend starting planning 12 months in advance, announcing next year's event date at the end of the current year's event and beginning soft marketing outreach six months out.

When we had to switch to virtual for the first time, I really investigated a lot of big platforms, but none of them suited us. None of them had everything we needed, and they were still very expensive. Letterpress tailored their services exactly to what we needed. Their service is very personal, and their team really worked with us throughout the entire planning phase and implementation of the event. We could not have done it without them.
— Juanita Giles, Virginia Children's Book Festival Executive Director

Harness the power of your community.
Connect with our community and receive the latest happenings at Letterpress right in your inbox.